February is the month, when we can finally start getting ready for the spring! The darker and colder days are behind us and we can slowly start getting excited for some warmer days and most importantly – the days are getting lighter too!! For a blogger daylight is extremely important to take nice photographs… It is especially important if you are a DIY and craft blogger.. as warmer days also mean I can finally start getting my projects outside and not clutter the house!!!  It's pretty annoying to sand or paint indoors, so I cannot wait to finally get outside!!
As I am super eager and cannot wait for the spring I thought I would share with you some tips and home design ideas on how to bring spring into your home this year!
So here are my tips for letting the spring into your home…
1. De-clutter  and  Spring Clean 
Yes it is coming from me (the clutter queen as my husband likes to call me…) but I don't like mess or when there are things lying around you don't need just gathering dust.. Sometimes you just don't have time to put things away and you think you will do it tomorrow.. or day after …. or later….  Today is the day – put everything you don't need away, box it up – give it away or simply store it…
Clean!  Once you have de-cluttered and put all your wooly jumpers and dare I say Christmas lights away… You can clean your home thoroughly! I love spring clean as you definitely can see a difference – especially once you have cleaned your windows and washed your curtains!  You can then almost smell the spring coming  in your home.
Open your windows! This is one of my favourites – open the windows and let the fresh air in your house!!
2. Use Spring Colours !
You may wish to refresh a room by painting it a new colour or simply accessorize any room using some lovely spring colours as accents. I love pastel colours, and there are some lovely shades bang on trend in home decor spring/summer 2016..  My favourites were the rose quartz and the serenity shades.
Upcycle Furniture by painting them using this season's trendiest colours 
Inject some colour by using beautiful linens or cushions.
Bedding
Bring spring in your bedroom with this stunning bedroom set.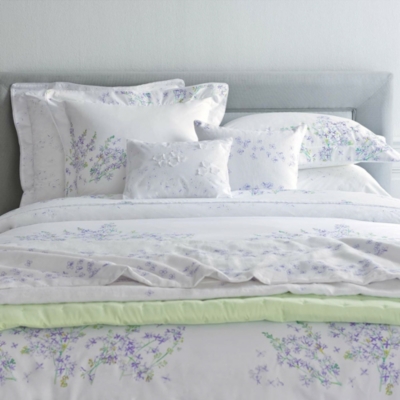 Upgrade your dinnerware
I absolutely ADORE this gorgeous bone china set from Miranda Kerr's collection. Feel free to send me a set! 🙂
Spring Accessories and Candles
Here are just some of my favourites:
1. Woodrose Heart, 2. Cherry Blossom Pillar Candle, 3. Set of 3 Tea Light Holders, 4. Glass Vase, 5. Candle
Finally… Bring fresh flowers into your home!  Gorgeous spring blooms will make any room look more beautiful !!!